Fiddle Club of the World (Chicago Chapter)
presents a Fiddlepalooza (* see below)
Tuesday, October 9, 7:30
Room # E324, Old Town School of Folk Music (4545 Lincoln)
Registration $25 (free for students registered in Tuesday night fiddle classes this session)
Learn traditional dance tunes from Austria from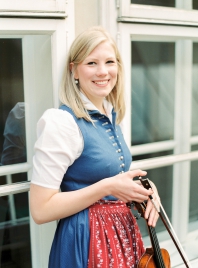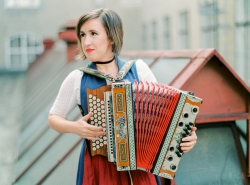 Theresa Aigner – violin Marie-Theres Stickler – button accordion
from Vienna and Upper Austria from Salzburg, in Lower Austria
Both are members of Die Tanzgeiger (The Dance Fiddlers), a roots music band of long-standing from Vienna. The band's leader, Rudi Pietsch visited a number of Old Town School fiddle classes over the course of a session in the Spring of 2010. He was also a featured artist at a Fiddle Club of the World meeting. A few years later, he and Marie-Theres poked their heads in Old Time Ensemble class and yodeled for us. Now we get to spend an evening with Marie-Theres and Theresa and learn a few traditional melodies from the Alps. This is a great chance for an up close experience with musicians who are passionate about the old-time music of their culture.
Note: Die Tanzgeiger will be part of the World Music Wednesday Concert on Oct. 10.
* This is Fiddle Club's third Fiddlepalooza in which we partner with the Old Town School of Folk Music's Tuesday night fiddle classes in bringing special guests to the students, while opening workshop participation to all who are interested. The first Fiddlepazalooza in 2010, which took place 2 days after Rudi Pietsch's Fiddle Club visit, featured Paul Brown & the Mostly Mountain Boys from North Carolina along with the Polka Chicks from Finland. Our second Fiddlepalooza, in 2015, featured Mette Jensen & Kristian Bugge from Denmark. Both events were great fun. A memorable highlight was the 28 fiddlers in a circle on stage in the concert hall playing the tune just learned from Kristian.