Truly. What a few days we had at the beginning of June.
Rudi Pietsch from Vienna gave an intimate concert, joined by his friend Jürgen Schempp, from Swabia (that's in Germany) on guitar. Your humble convener was quickly trained for second fiddle. For the proper Austrian style we lacked a kontra (chorded fiddle or viola) and a bowed bass. Here is a slow yodel followed by a fast dance tune.
Meraner Jodler-Ischler Schläunige
Two days later, the Mostly Mountain Boys and the Polka Chicks dropped in for two evenings at the Old Town School. On Tuesday night they did a workshop for several fiddle class and the Fiddle Club.
The Mostly Mountain Boys (Paul Brown-fiddle, Teri McMurray-banjo and John Schwab-guitar) hail from Winston-Salem, North Carolina and Washington DC. They started out with a twisty but fine version of "Fisher's Hornpipe" they learned from Esker Hutchins of Dobson, North Carolina.
The Polka Chicks, from Helsinki (that's in Suomi, aka Finland), are Kukka Lehto on fiddle and Tejia Niku on accordion. They started with song of poverty and sadness. The singer's life is so sad that his parents don't even care if he marries a girl in America.
unnamed song from northern Finland
Following this lovely introduction, Paul Brown taught us distinctive version of Sugar in the Gourd that he learned from Norman Edmonds of Hillsville, Virginia. And Kukka Lehto worked us through the haunting major and minor turns of Viktors Vals from Ostrobothnia, an area in western Finland with an especially rich fiddle tradition.
The following night, both the Mostly Mountain Boys and the Polka Chicks were on the stage in our concert hall for World Music Wednesday. A delightful performance.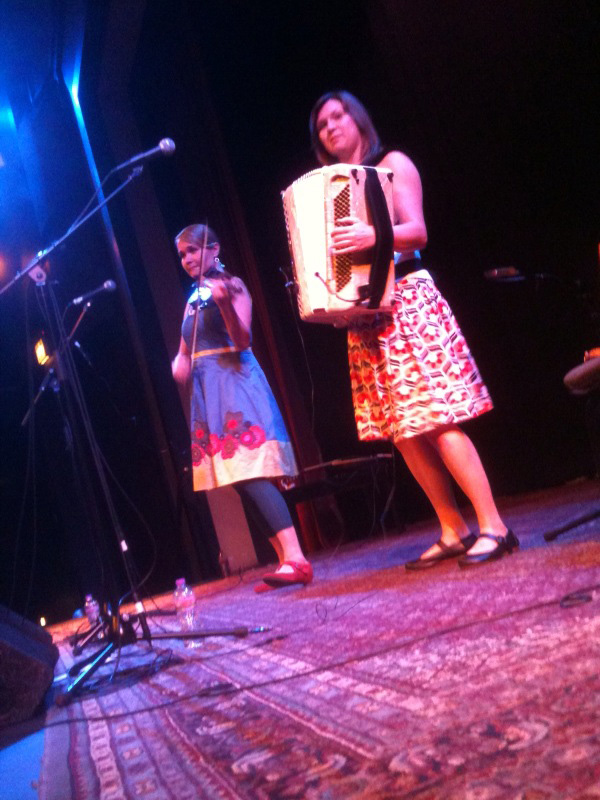 Kukka Lehto & Teija Niku
One morsel more. One of the oldest folk dance tunes from Austria, a ländler that was written down in 1702. Rudi plays a setting that imitates the dudelsack (German for bagpipes). Here's an example of a Czech dudelsack, and another view from Austria.

My father's day gift to all who are the child of a dad.
Paul Tyler, convenver