Dorian Gehring, Cajun Fiddle
Sunday, May 20, 6:30 – Room E324
Old Town School East (4545 Lincoln)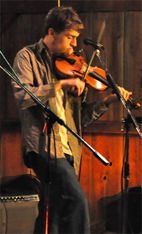 Dorian Gehring
Fresh out of college, Dorian is always ready with his fiddle. He won top prize in the 2010 Midwest Fiddle Championship with his band, the Cajun Vagabonds.
Dorian plans to discuss different Cajun styles and talk about the modern Cajun scene. He would also like to help Fiddle Clubbers learn how to play second or chording fiddle.
Here are some tunes
Eunice Two-Step

Eunice Two-Step slow


Cherokee Waltz

Cherokee Waltz slow

$15 dues for this workshop, click here, or choose the year-long subscription option ($60 for 12 months of Fiddle Club).