Maria McCullough, a charter member of the Chicago chapter of the Fiddle Club of the World, represented the Fiddle Department on an exchange program that sent five Old Town School teachers and two administrators to Newcastle, England and Helsinki, Finland this past spring. Armed with a video camera and sound recorder, Maria digitally captured some fabulous folk music moments.
You can visit the Old Town School Connect blog to read Maria's comments and peruse some of the footage. I highly recommend the videos of the Rapper Sword Dance, performed in a pub in Newcastle, and the demonstration of the Jouhikko, an archaic bowed lyre now being taught to students at the in the Folk Music Department of the Sibelius Academy in Helsinki.
The Sibelius Academy parallels the Old Town School in many ways, including offering ensemble classes dedicated to traditional folk music. Maria got to participate in one such class taught by Olli Varis. A mandolinist and guitarist, Olli is a veteran of some of Finland's best known professional folk music groups, including Koinurit, Värttinä and the Helsinki Mandoliners.
Here's a three-part tune taught by Olli.
Suden Rita

And here's the ensemble class wailing away at the tune. The Old Town School's Steve Levitt joins in on guitar on the right. What is the one major difference between this class in Helsinki and Old Time Ensemble at the Old Town School (I mean besides the fact that the students are reading music off the stands in front of them)? These Finnish students are receiving college credit for learning their old time music!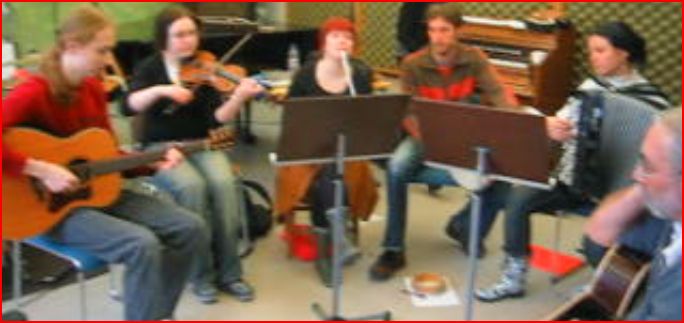 For more of the flavor of folk music in Finland and England, peruse Maria's comments on the On the Road blog. For a taste of fiddling in northern England, try her recording of a lesson with fiddler Ruth Ball. The tune is the "Dunstanburgh Rant." Here's a shorter clip of the full tune at a moderate tempo. (Rants are like reels. They should played pretty fast.)
Dunstanburgh Rant

Keep fiddling.
Paul Tyler