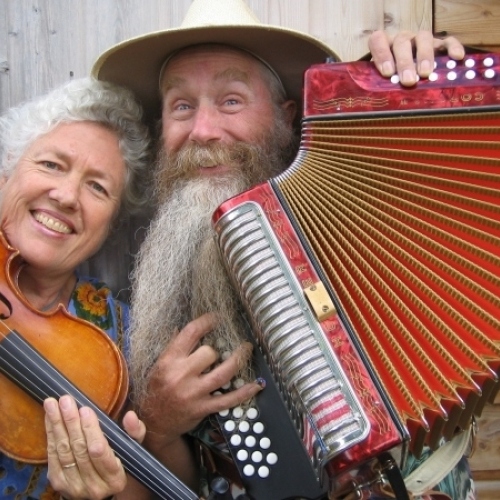 aka Ken Keppeler & Jeanie McLerie
Fiddle Club of the World meeting (aka concert & jam session)
Friday, May 12 – Admission $20
Seman Violins (4447 Oakton in Skokie)
Music starts at 7:30. Come for the concert. Stay and play and learn a tune or two. All instruments and all listeners welcome.
Ken & Jeanie bring loving attention to little known musical wonders of the Amermican Souths, from Cajun waltzes to Tohono O'odham polkas and Mexicano rancheros to Cowboy ballads and other folk songs. Go to this YouTube video to listen to their performance of a Fiddle Club favorite, Purple Lillies Polka
aka Tricia & Howard
Thursday, June 22
Fiddle Club meeting with a concert & jam/workshop
Location to be announced
Featuring old-time tunes from Texas, the Central Plains, and other corners of America. Check out these videos for a great guitar-fiddle duet and some sublime twin fiddling. There are more videos on their website linked above.
More Fiddle Club Events
Friday, April 28: Barn Dance with the Fiddle Club of the World Orchestra
Paul Tyler will teach and call the figures at The Social
Old Town School of Folk Music (4545 Lincoln), 7:30, more info here
Wednesday, June 21: Fiddle Tunes Jam for Make Music Chicago
6 to 8pm in the Welles Park Gazebo. Like it on Facebook.