This Friday, February 17
Blake Miller with Amelia Biere & A.J. Srubas
Seman Violins (4447 W. Oakton in Skokie
Cajun music workshop at 6:30. Cajun Dance at 8pm
Admission to both the workshop and the dance is $20. $10 for just the dance.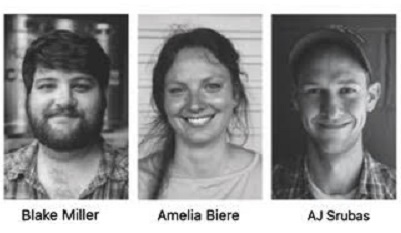 Grandson of well known accordion builder Larry Miller, Blake Miller has been surrounded by Cajun music and culture his entire life. Hailing from the small town of Iota Louisiana, Blake, a fluent french speaker and songwriter, managed to acquire a degree in Francophone studier from The University Of Louisiana at Lafayette and in the mean time founded the popular young Cajun band The Pine Leaf Boys and became a member of the premiere Louisiana roots Band The Red Stick Ramblers. He has also served stints in just about every other cajun/creole band of note including Balfa Toujours, Les Malfecteurs and Cedric Watson & Bijou Creole bringing his strong cultural identity and accomplished musicianship to the world. Now plays with the world traveled Revelers for the past 4 years singing and playing his own songs on fiddle and accordion.
Originally from a small town in Wisconsin, Amelia Biere was exposed to many forms of traditional music at an early age. She grew up listening to her dad sing, play guitar, piano, and fiddle. Fate took her to Minneapolis for college, where there were regular Cajun dances. She got hooked! Mentored by a few of the stalwart musicians of the Twin City music scene, Amelia started learning French, playing and singing. Two bands resulted: Ana and the Bel-tones and Millie and the Mill City Heavyweights. In 2014, Amelia decided to move to the source of it all – Lafayette, LA. There she has been soaking it all in, ever expanding her love for the culture. In addition to playing Cajun music, she plays old-time guitar and loves to dance. When not playing music, she is a wedding florist.
AJ Srubas is originally from Green Bay, WI where he grew up playing Irish music in a family band. After graduating high school, he went to study fiddle in Ireland for a few months but upon returning home he was introduced to old-time music when his older brother started to learn claw hammer banjo. Before he knew it, he was completely hooked. AJ now lives in Minneapolis, Minnesota and has been playing old-time music for the last decade. He plays old-time fiddle in the Bootlicker Stringband and Cajun fiddle and pedal steel guitar in the New Riverside Ramblers. When not playing music, he is an apprentice violin bow maker and organizer for The Monday Night Square Dance and other Minnesota festivals. AJ teaches private lessons and has taught at the Central Rockies Old-time Music Association's summer festival, Berkeley Old-time Music Gathering and many Minnesota Bluegrass and Old-time Music Association events.