Don Ricardo Ibarra
with family and friends
Friday, May 13, 7:30pm
Seman Violins (4447 W. Oakton in Skokie)
$15 admission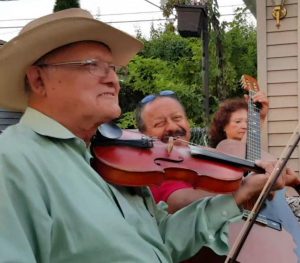 This musical house party will be hosted by mis amigos, Juan Rivera and Pedro Gomez. They will introduce to Son Caletano. For Pedro and Don Ricardo, this is a deep-rooted family tradition. For Juan, it is the music of a neighboring region. (The video below was filmed at a party in Juan's back yard in Cicero last summer.) Let this night be a party, and let us all be open to what can happen when musicians get together to play, and talk a bit, about the music they love. There will be playing and singing and, hopefully, a little dancing. Perhaps there will be a little teaching for those of us new to Son Caletano.

Some background from Juan Rivera:
Don Ricardo Ibarra was born in 1941 in Tiquicheo Michoacán, part of the "Hot Land's" region (La Tierra Caliente). His Father, don Miguel Ibarra, was a very important fiddler in the region of the Son Calentano. He played with many important musicians of the region and was a contempory of don Juan Reynoso, known as the "Paganini de Tierra Caliente". He taught his 4 sons to play the music since they were children and also his nephew Serafín Ibarra*. Don Ricardo Ibarra's first instrument was the guitar and vihuela, but after his older brother Enrique died in 2005, he took up the fiddle again and started to play it since then with his brothers Miguel and Guadalupe and his cousin Ismael.
Here's a link to an article en Español that Juan wrote for the Federation de Clubes Michoacana en Illinois.
*Serafin Ibarra has appeared on stage at the Old Town School of Folk Music several times. I took a workshop with him at the School's Festival of Mexican Son in 2005.
-Paul Tyler, convener