1. Everything is all set for
12th Midwest Fiddle Championship
Youth Division Round* – Sunday July 6 at 11 am
Open Division & Youth Division Finals – Thursday, July 10 at 6:30 pm
At Square Roots Fest
Open Division Finals (also Youth winners perform) – Saturday, July 12 at 1:30
3rd Battle of the Bands – Sunday, July 13th at 7 pm *
The Championship is held in Maurer Hall,
Old Town School of Folk Music West (4544 Lincoln)
*These events held in Szold Hall, Old Town School East (4545 Lincoln)
Important links
Midwest Fiddle Championship info and an online registration form (register by July 1).
2. Fiddle Club of the World will participate
Make Music Chicago
on Saturday June 21st with performances at
Indian Boundary Park, 11-11:45 am
Poetry Foundation, 1:30 -2 pm (tentative)
Joan's Studio, 4:15-5 pm
Past jam participants are welcome to join.


3. Coming this summer, new ways to participate in Fiddle Club of the World
Friends of the Fiddle Club supporting membership
Also, a new World Membership will provide access to an online Fiddle Clubhouse,
plus new gear and swag are coming: membership cards, case stickers, a CD and (eventually) a t-shirt.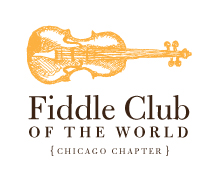 Paul Tyler, convener