Ukrainian for Tune of the Week for May 7, 2012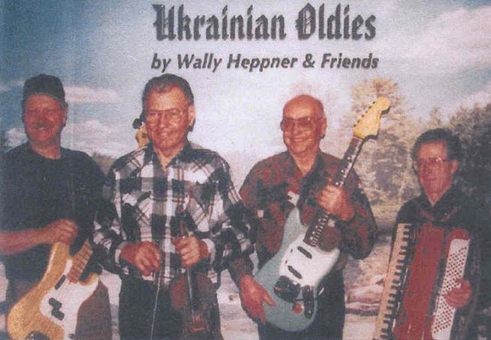 I got to dance to Wally Heppner when he represented the Ukrainian community of Alberta, Canada at the Smithsonian Folklife Festival on the Mall in Washington D.C. in 2006. The band at that event was called Zabava, and besides the fiddling of Mr. Heppner, it featured a tsymbaly, or hammered dulcimer.
That same core of fiddle and dulcimer is heard in this Tune of the Week, by the Radomsky Trio from Alberta, with Metro Radomsky on fiddle and Metro Lastiwka on tsymbaly. This 1952 recording was just recently posted by my old friend Paul Gifford, whose website devoted to northern old-time music just went online. Check it out: Paul Gifford's Collection of Old-Time Fiddling, Dulcimer Playing and Songs from Michigan and the Great-Lakes Region. (The Radomsky Trio can be found under Dulcimer / Ethnic Dulcimers.)
Two-step from a 1952 Stinson recording of the Radomsky Trio


Used with permission from Paul Gifford, who supplied this link for more on Metro Radomsky and Ukrainian-Canadian old-time.
X:19
T:Two-Step
M:C|
L:1/8
S:Radomsky Trio
K:F
C2^B,C D2E2 | F2G2 A2B2 | c2^Bc d2E2 | FEFG A2F2 |
C2^B,C D2E2 | F2G2 A2B2 | c2^Bc d2E2 | FGAG F4 ::
z2c2 ^B2c2 | d3c B4 | zB2 A2B2 | c3B A4 |
z2c2 ^B2c2 | d3c B4 | C2^B,C D2DE | F2AG F4 :|