R.I.P.
Joseph Aquilla Thompson
December 9, 1918 – February 20, 2012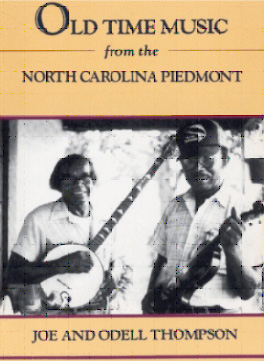 From Mebane, North Carolina, Joe Thompson was a gentleman, a family man, a fiddler and a saint. He started playing for house dances with his brother before his legs were long enough to reach the floor from the chair in which he sat while he fiddled. In the late 1970s, he was convinced to start performing again, teaming up with his cousin Odell on banjo.
Twenty years ago, I got to see him perform in Philadelphia, many cultural miles away from his home district of small tobacco farmers. A dozen years ago I got to dance as he called an old-time frolic (ie, square dance) from the family and community tradition he grew up with. In 2005, I attended the Black Banjo Then and Now conference in Boone, North Carolina, where Joe was received as an honored elder (and where the Carolina Chocolate Drops got their start). A couple of times in the following years, I got to see him play in Chicago, once at the Old Town School in an afternoon program sponsored by the Center for Black Music Research at Columbia College. Afterwards, I sat beside him at a jam session in the back room of the Grafton as he tried to teach us to play Georgia Buck.
Georgia Buck, Joe & Odell Thompson, 1987


The notes are simple. The rhythm and ornaments are complex. The form and variations are fluid. The tune has two parts (what we normally call 'A' and 'B'), but they are played with a logic different from the regular progression of repeated alterations. The transcription that follows is roughly taken from the last three times through the performance recorded above. It is meant to give you an idea of some of the variations use. The slides are more important that the actual starting pitches indicated by the grace notes. The Bb is more bluesy and not a tempered Bb. Listen to the recording a lot, as you learn to play the tune.
X:8
T:Georgia Buck
M:C|
L:1/8
S:Joe & Odell Thompson
K:G
"A" ^A-| B2dd G2AA | BAGG E2GG |"slide" {^A}B2dd G2B=A | G2GG E2GG |
"slide" {^A}B2dd G2B=A | D2EE DEGD | G2G4 G2 | G2DD E2G2 ||
"B slide" {^A}B2dd d2ee | =f2fA G2GG | "slide" {^A}B2dd d2B=A | G2GG E2G2 |
"slide" {^A}B2d4 e2 | =f2GG EGGE | G2G4 G2 | G2AG E2GA ||
"A" _B2dd B2AA | _BAAG E2GG | "slide" {A}_B2dd d2=BA | G2GG E2GG |
"slide" {A}_B2dd d2eA | G2AG EGGE | G2G4 G2 | G4 G2z ||