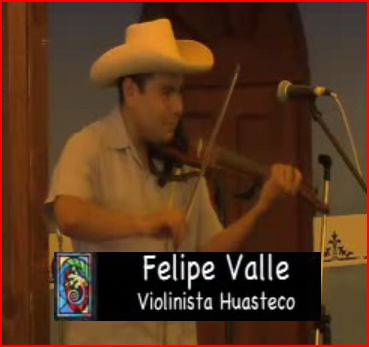 Our featured guest artist is Felipe Valle, "El Huracán Huasteco," in town for July from Mexico City. Felipe is a young master of Son Huasteco, a regional style of folk music from the area north of Veracruz. The favored rhythm of Son Huasteco, called 'huapango,' is well-suited for zapateado, (Mexican step-dancing or clogging). Son Huasteco features virtuosic and flamboyant fiddling, alternating with improvised vocals with a distinctive yodel.

Sunday, July 20, 6:30-9:30
Leadway Bar and Gallery 5233 N. Damen, Chicago
Go here to register for the meeting (aka 'pay your dues')
Or you can register by phone at 773.728.6000
The cost is $15.
Accompanying Felipe will be his long-time friend and musical compadre Juan Rivera, fiddler and multi-instrumentalist with Sones de Mexico.
To hear some tunes from Felipe and Juan, click here.
The Fiddle Club of the World (Chicago Chapter) welcomes players of all instruments and listeners who want to sit up close to masters of traditional dance music.