When Chirps Smith visited the Fiddle Club of the World, he played a tune called "Ten Strike" that, well, struck a chord. A Club member requested that the tune be posted to this blog. It already has, on the report of the April 20th meeting. It's still worth taking a closer look at "Ten Strike." (Here it is again.)
Chirps learned the tune from the playing of Les Raber (1911-2000), a lifelong resident of Michigan. We both heard Les play the tune on numerous occasions. On this example, I am seconding on guitar and Paul Gifford is on hammered dulcimer. It's February 1998, and we're getting Les prepared to perform that summer at the Festival of American Fiddle Tunes in Port Townsend, Washington. The scene is the cozy living room of Les and Rosemary's farmhouse outside of Hastings in rural Barry County.
Properly speaking, the tune is for the 4th figure or change of the Ten Strike quadrille, as printed in Gems of the Ballroom, compiled circa 1890 by Geo. B. McCosh of Dekalb, Illinois. Les also played the tunes for both the 1st and 3rd changes. (In fact you can hear both on this CD: Come Dance With Me . . . Again.)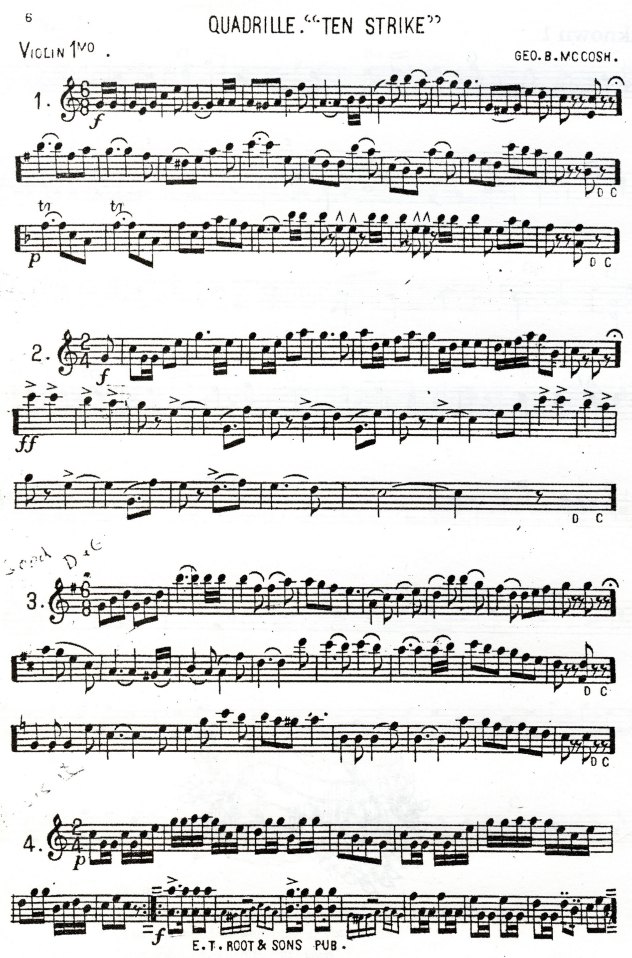 (click to enlarge)
When I first met Les in 1981, Paul Gifford had, at my behest, brought him along from Michigan to Battle Ground to perform at the Indiana Fiddlers Gathering. Les had just acquired a copy of the first violin edition of Gems of the Ballroom, had polished up his music-reading skills, and was working his way through book while sitting under the shade of a tall oak that had witnessed the Battle of Tippecanoe in 1811, a full century before his birth.
Here's how, over ten years ago, I wrote down what Les played.

There is some debate whether Geo. B. McCosh's "Ten Strike, No. 4" is the source for "Oklahoma Rooster," a tune associated with old-time fiddler Uncle Dick Hutchison. You can judge for yourself.

Oklahoma Rooster

Paul Tyler, convener
May 14, 2008