It's Cajun fiddling with Will & Holly Whedbee
Leadway Bar and Gallery 5233 N. Damen, Chicago
NEWS FLASH!!!
The meeting will start at 4:00 pm
(Not 3:30 as previously announced.
The bar doesn't open till 4. Doh!)
You can still sign up. Find workshops here.
And
DOUBLE NEWS FLASH!!!
We'll begin with a special showing of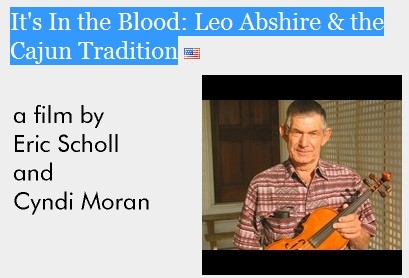 The producers are Old Town School parents who, at one time, were in a variety of fiddle and banjo classes and the Old Time Ensemble. They will be there. This is something extra special.
You can still sign up for the May meeting by calling the Old Town School of Folk Music at 773.728.6000. If you want to bring a guest, you'll have to sign them up for the Club. Hurry. It's first come, first served.
Paul Tyler, Convener
Fiddle Club of the World meetings start with an unplugged concert by the featured guests. The concert will be followed by a jam session for club members with the featured guest. Several tunes you can learn are posted on this website under the category "Tunes" linked on the right sidebar.