The fiddle is the world's greatest musical instrument. Because it is uniquely suited for dance music, and because dancing is a favorite activity of humans the world around, the fiddle is at home in all corners of the globe.
Chicago is a city of the world. People came here from all over to find work and a home, to have families and build communities, to live, love and dance! The fiddle came along with many of these peoples. It crossed oceans and traveled over the plains to this teeming metropolis where masses eagerly awaited the end of each work week when they could enjoy the warm intensity of the dance hall or kitchen hop.
The fiddle belongs to Chicago. One early player was John Kinzie, a Canadian-born Scotsman who dealt his hand-wrought silver jewelry to the region's Indians in exchange for furs. Frenchman Mark Beaubien, a native of Detroit, played the fiddle in his Sauganash hotel while his young son step-danced on the table in a command performance for Potawatomi Chief Shabbona.
Nelson Perry, a musician who advertised his services as a "man of color," available for parties and assemblies, played fiddle in a multi-racial orchestra for a New Year's ball in newly-incorporated Chicago in 1834. The Horenberger brothers, of German stock, played their fiddles so the young people of 19th century Deerfield could dance in the large home of the Carolan family, immigrants from Ireland.
| | |
| --- | --- |
| Mark Beaubien | Edward Cronin |
At the end of the century, when Francis O'Neill (superintendent of the Chicago police force) was gathering instrumental melodies for his landmark collection, O'Neill's Music of Ireland, his sources included Timothy Dillon, a Chicago policeman who had been born in 1846 in County Limerick, and a secretive fiddler named O'Malley, who played "like a house on fire," despite missing a finger on his left hand. Another favorite source of tunes was Edward Cronin, a weaver from Tipperary who, when he came to Chicago, worked a grinding wheel at the Deering Harvester Works.
The fiddle, though long associated with ancient sounds and old village ways, continued to thrive in Chicago as the city marched through the 20th century in lock-step with the forces of industrialization and modernization. Fiddlers in Chicago adopted new technologies and adapted to changing tastes in popular culture. Chicago became truly the second city for America's burgeoning record industry.
Among the thousand of musicians who came here to etch their artistry in shellac were such giants as Russell "Chubby" Wise, who set the paradigm for bluegrass fiddling with Bill Monroe & His Blue Grass Boys, and pioneering western swing fiddler Jesse Ashlock with Bob Wills & the Texas Playboys. Local recording artists who were notable in their own communities included Irish fiddlers like Patrick Stack and Johnny McGreevy (who also was described as playing like "a house afire"), and Karol Stoch, a recent immigrant from the Tatra Mountains in Poland. At the same time, Eddie South was establishing a benchmark for jazz violin while leading such groups as Jimmy Wade's Syncopators and his own Alabamians.
Other fiddlers who recorded here have faded into obscurity, though they left behind tantalizing traces of their artistic endeavors. B.E. Scott cut four sides here for Paramount in 1925. Only recently have we learned that he was Benjamin Scott, a railroad worker from Mattoon, Illinois. But we don't know the name of the fiddler in the Ukrainian Orchestra Apolskoho who recorded in Chicago for Victor in 1929. And from whence came Mexicano fiddler José Menéndez, who that same year recorded here for Vocalion? Was he a Tejano or from south of the border? Did he make his home here in Chicago?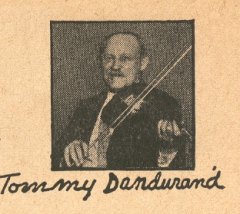 Chicago was also an important center for the development of radio broadcasting. One of the jewels in the city's crown was the successful endeavor by WLS to target programs for farmers and rural Americans. The station's long running National Barn Dance kicked off in 1924 with the sounds of an anonymous fiddler. Within the show's first half year, at least twenty old-time fiddlers from the Midwest had performed on the WLS airwaves, including Kankakee native Tommy Dandurand, William McCormack from Marseilles and Frank Hart from Aurora. They were followed by such luminous country music stars as Clayton McMichen, a fiddler with the Atlanta-based Skillet Lickers who started his own Georgia Wildcats, David "Tex" Atchison of the Prairie Ramblers, and Curt "Dott" Massey of the Westerners.


James Priest – Frank Hart – William McCormack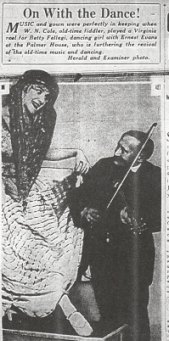 In the years just before Chicago celebrated it's Century of Progress with the 1933-34 World's Fair, the city was caught up in a wave of nostalgia for the fiddle tunes and country dances of yesteryear. Fiddling contests sprang up all over North America to celebrate what was thought to be a vanishing art form that had flourished in more bucolic times. One of the largest contests during this 1926 frenzy was sponsored by the Chicago Herald and Examiner. Thousands of spectators flocked to the Midway Dancing Gardens in Hyde Park to watch 120 fiddlers–all over the age of 50–vie for the "Midwest Old Time Fiddlers' Championship."
First place went to French-Canadian Leizime Brusoe, a resident of Rhinelander, Wisconsin. His prize included a trophy, $100, a recording contract with Okeh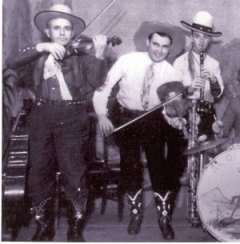 Records (apparently never executed), and a six-week vaudeville tour on the Orpheum Circuit. In the next two decades, Brusoe performed with Rube Tronson's Texas Cowboys (a house band for the National Barn Dance), led his own orchestra back home in Rhinelander, and recorded several dozen tunes for folk music archives at the University of Wisconsin and the Library of Congress.
Leizime Brusoe – Rube Tronson
Reports of the imminent demise of old-time fiddling in Chicago and elsewhere were premature. The end of the twentieth century saw another great revival of interest in old-time fiddling. Senior fiddlers, like Howard Armstrong and Johnny McGreevy, made comebacks that took them to folk festivals and brought them before new audiences all around the Midwest. Armstrong, who had recorded in the 1930s as part of the Tennessee Chocolate Drops, made three albums in the 1970s with Martin, Bogan and Armstrong (the last two were for the Chicago-based label, Flying Fish Records). Johnny McGreevy recorded LPs with local uillean piper Joe Shannon and flutist Seamus Cooley.
| | |
| --- | --- |
| | John McGreevy – Seamus Cooley |
There were plenty of young disciples eager to follow in the footsteps of their elders, part of a grand generation of masters who have since left us, may they rest in peace. Besides scores of new fans and players, numerous clubs and organizations have rendered aid for the passing on of the cultural treasures of traditional fiddling. A partial list includes the Chicago Barn Dance Company, the University of Chicago Folk Festival, the Irish Musicians Association of Chicago, the Polish Highlanders Lodge, the Chicago Spelsmanlag (Swedish), and the mariachi program at Benito Juaréz High School in Pilsen.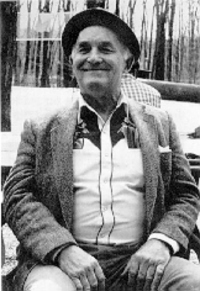 As for myself, I have played the fiddle for over thirty years. In the beginning, I was self taught. But within a few years I received valuable mentoring from senior fiddlers in my home state of Indiana. I am grateful to Edgar Hursey of Ligonier, Clay "Pete" Smith of Star City, and Ken Smelser of Paoli. There are no words of gratitude sufficient for the wealth of music and wisdom I gained from my long associations with Lotus Dickey of Paoli, Francis Geels of Decatur, and Les Raber of Hastings, Michigan.
Lotus Dickey
Since 1990, I have been teaching fiddle at the Old Town School of Folk Music, along with, over time, a dozen other fiddle teachers. We've done our part, and as a result, there may be more fiddlers per capita in Chicago than anywhere else in the country. Well, maybe not. But there are a bunch of you out there fiddling for your own enjoyment, playing for dancers, or finding community and friendship in one of the many jam sessions that have sprung up. Some of you have earned financial rewards (don't quit your day job), while many more of you are amply satisfied with the social and aesthetic payoffs of making music.
This Fiddle Club of the World is for you. Learn some tunes. Come sit up close and listen to a modern day master. Stretch your horizons. Cross a few boundaries. Order a beer. Let's have a tune.
Paul Tyler, Convener
Fiddle Club of the World (Chicago Chapter)
February 27, 2008