Old Town School of Folk Music
I started at the Old Town School in 1988 as Curator of Collections and Exhbitions. My first two goals were to setup a Resource Center for recordings and to mount an exhibit on The Making of the 5-String Banjo, to highlight the donation of a collection of vintage Stewart banjos 20 years earlier. After 5 years, my position ended (though the Resource Center is still there and growing). I stayed on as a teacher. I took over the Old-Time Ensemble in 1990, and nurtured a fiddle curriculum that now extends to 4 class levels and a variety of ensembles and specialty classes. I also teach classes in Early Country music.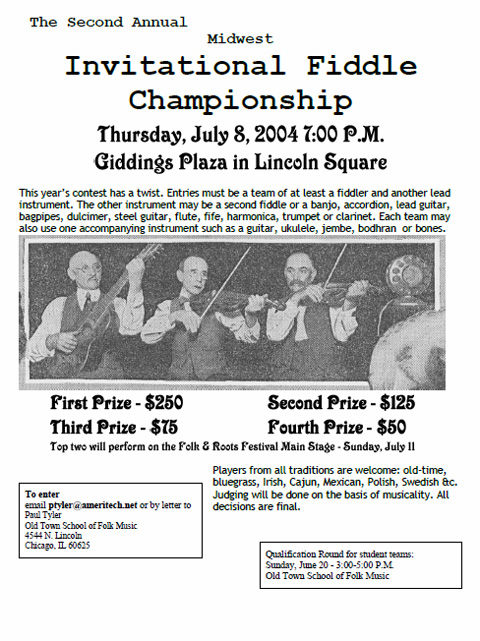 In 2003 I began an annual fiddle contest, the Midwest Fiddle Championship, a multi-cultural event that promotes fiddle music in a multitude of settings: soloists, teams, bands on stage with dancers, and bands in our dance hall. As I write this, 11 championships are in the books.
In 2008 I established the Fiddle Club of the World (Chicago Chapter). Fiddle Club comprises a blog for sharing tunes, concerts with featured guest artists followed by playing workshop/sessions, and regular gatherings to play tunes. Through the first 6 years, Fiddle Club has hosted 42 guest artists.
Over the years I have been lucky to play with, present, or learn from a stunning variety of visitors who came to our classes, concert hall, and jam sessions. And on occasion, I've gotten to take a trip to learn from and play with traditional musicians from beyond our walls. My longest trip was to Finland.