Indiana Hoedown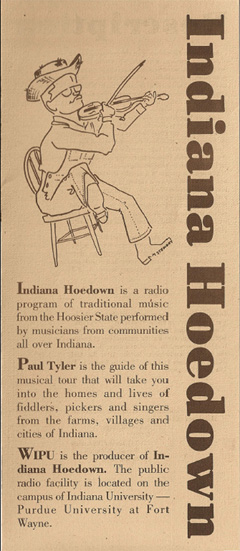 Here was DrDosido's big start. I was dabbling as an amateur collector when, in 1979, I received a grant from the Indiana Arts Commission to make field recordings of traditional musicians throughout Indiana. A parallel grant from the Indiana Committee for the Humanities funded the production of a series of 26 one-hour radio programs under the title Indiana Hoedown: Traditional Music from the Hoosier State.
WIPU-Fort Wayne (now WBNI) hosted my show. A public thank you is long overdue to my backers: program director Gerry Davis and production manager Mike Venable. And I wouldn't have taken any of these steps without the support and advice of Frank Gillis, then director of the Archives of Traditional Music at Indiana University-Bloomington.
In the mid-1980s I received two more grants from the Indiana Arts Commission to record ethnic music. From those recordings I produced the cassette album Ethnic Dance Music in Northern Indiana. The first 2 browsing pages-Fiddlers and Ethnic & Folk Artists-are from the 1979-80. The 3rd browsing link is from 1986-87.