The next fiddle club meeting will be
Sunday, November 20 at 6:30p
Atlantic Bar & Grill (5062 Lincoln)
We'll play a few English ceilidh (pronounced 'kaylee') tunes, which will be posted soon. And we'll try them out with a couple of easy dances. Invite your friends and family to come along and dance. No admission fee. No registration required.
The story thus far. Long ago in a galaxy far away I started playing the fiddle and calling square dances, because I thought that was the most fun a group of people could have.
| | |
| --- | --- |
| Al Smitley & Paul Tyler re-enacting frontier life in 1836 Conner Prairie Pioneer Settlement, Noblesville, Indiana – 1981 | |
Way back then, I had the glimmer of notion that the American square dance was just one type of set dance among many. Even then I knew the fiddle was the universal instrument. But over the next thirty years, I concentrated on playing for and calling American square dances, in part, because they were easy for folks to learn, and required only a walking step. No aspiring dancer had to learn to do anything special with his or her feet.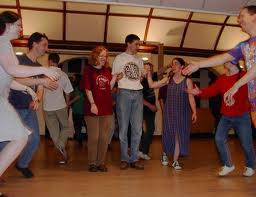 But in the meantime, in merry old England, a set dance revival was growing that attracted thousands of people young and old, and several dozen high energy dance bands to a scene called Barn Dancing. In the last ten years it's also become known as Ceilidh dancing, borrowing a term for similar explosion of old time dancing in Scotland. The dances are for sets of 4 to 6 couples, or for lines for "as many as will," or for circles made up of couples or groups of 3. The dances are all easy to learn and great fun to do.
And part of what makes English Ceilidhs such big fun, is that the dancers use a few special steps that bring them to a closer connection with the music. These steps are the setting step (for reels), the rant step, and the polka. We're going to try them out at the next meeting.
Here's some tunes. My current favorite reel is Beatrice Hill's 3-Hand Reel. Click the title for a slow version I posted on the Old Town School's Flog, and click this link for the notes. If you want to get inspired, listen to this live version from the Old Swan Band, the top-of-the-heap band for English ceilidh.
Another great, and easy, English reel that has been played in Old Town fiddle classes is Albert Farmer's Bonfire Tune. And for the right feel for an English reel, take a look at this video of the Old Swan Band playing "Speed the Plough". For the last figure each time through, the dancers do a simple polka step (and-a|1 & 2 and-a|1 & 2).
Another step from the old-time polka (also known as a schottische), is the step-hop, step
-hop (1 & 2 &|1 & 2 &). At an English Ceilidh, reels and polkas dance alike, as seen in this video of the Old Swan Band playing a couple of well-known polkas learned from Walter Bulwer of East Anglia.
Check back in a day or two for part 2 of this post. I'll provide some sounds and video for the reel setting step and the rant step.
Paul Tyler, convener