Support Your Local (& Global) Fiddler
Join the Chicago Chapter of the Fiddle Club of the World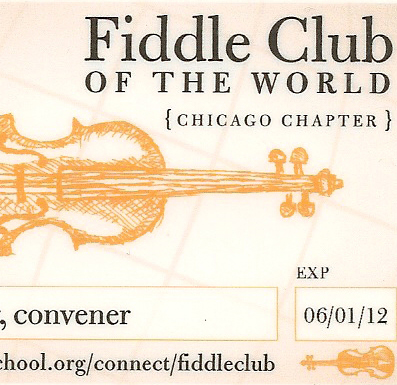 Yearly subscription of $60 gives you admission to all Fiddle Club events. Meetings are usually held the 3rd Sunday at the Atlantic Bar & Grill (5062 Lincoln).
Fiddle Club card – partial view
Square & Ceilidh Dance workshop
Sunday, June 19, 6:30 – a dry run for Fiddle Club players,* dancers welcome
Check the tune list below.
9th Midwest Fiddle Championship
Youth/Family Division – July 1, 5:30 – 7:00 PM, in the concert hall at 909 W. Armitage Avenue
Open Division 1st Round & Youth/Family Semi-Finals – Thursday, July 7, 7:00 – 10:00 PM in the concert Hall at 4544 N. Lincoln Avenue
Open Division Finals & Youth/Family Finals – Saturday, July 9 at 12:30 PM, Folk & Roots Festival main stage in Welles Park
You should enter.
Everyone is welcome to come listen and cheer. Free admission to 1st Round and Semi-Finals.
More info at Chicago Folk & Roots Festival
Square & Ceilidh Dance
Sunday, July 17, 6:30 – the real thing
Admission for dancers: $5
Visit and join the Fiddle Club of the World Facebook group.